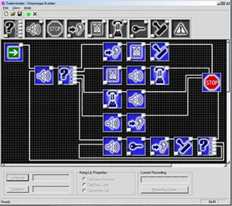 TeleMinder
"Message Builder"


Message Builder is a unique TeleMinder application that allows quick and easy message creation. Our intuitive point-and-click interface lets you easily create and record your own interactive, multi-language messages. Each message is created from a series of block icons that you drag and drop into a desired sequence.



Designed for a wide range
of applications

TeleMinder is as comprehensive as it is versatile, opening a world of messaging possibilities. TeleMinder is that single solution for all your automated messaging and notification needs.

There are never additional licensing fees for using TeleMinder within your network. Also there is also no limit to the number of hospitals, clinics, departments or providers utilizing system... And no limit to the number of messages.


TeleMinder's robust architecture encourages full and unlimited participation of our automated communications by every level of your organization.


Unlimited Messaging
Unlimited Distribution



TeleMinder includes all the hardware, software, training and support for your easy-to-use automatic messaging and notification system.

Easy to Use
Turnkey System

The TeleMinder Message Builder puts you in control of all your messaging… from appointment notifications, to lab reports, clinical surveys and more.